The SRWorks SDK is available in early access, download here.
How can I check if my system is able to support Vive Pro's SRWorks SDK functionalities?
On your desktop, open the settings page of SteamVR and navigate to the "Camera" tab. Select "Test Camera Rate" which will activate the Pro's cameras and verify connectivity and functionality. If your configuration is compatible, you will see 3 green checkmarks (as illustrated below).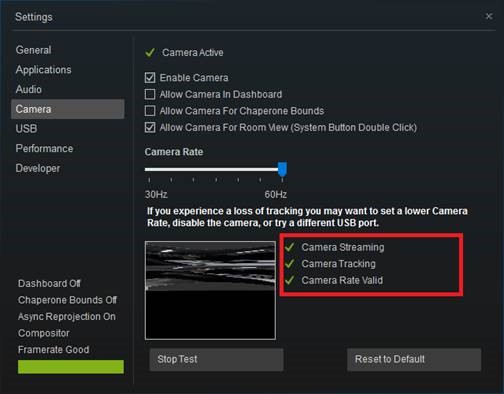 Is there any sample code provided to developers to help them learn about the SDK?
Yes, within the SRWorks SDK package we have provided a Unity and UE4  tutorial project complete with source code. This project also demonstrates the current functionalities of the SDK. It can be under the Downloads section.
What function within SRWorks SDK currently utilizes the depth image that is generated?
The 3D reconstruction module.