How to Install VIVE OpenXR Plugin
Prerequisite: Unity Versions 2020.3.15f2, 2020.3.30f1 and 2021.3.3f1 are verified and recommended.
How to Install VIVE OpenXR Plugin
Step 1. Register source server
From menu Edit > Project Settings
Select Package Manager
Input VIVE Registry
Name

VIVE

URL

https://npm-registry.vive.com

Scope

com.htc.upm

Note

All space in "URL" and "Scope(s)" must be trimmed
Apply the change

Step 2. Install VIVE OpenXR Feature
From menu: Window > Package Manager
1. Check sources in "My Registries".
2. Install "VIVE OpenXR Plugin - Android".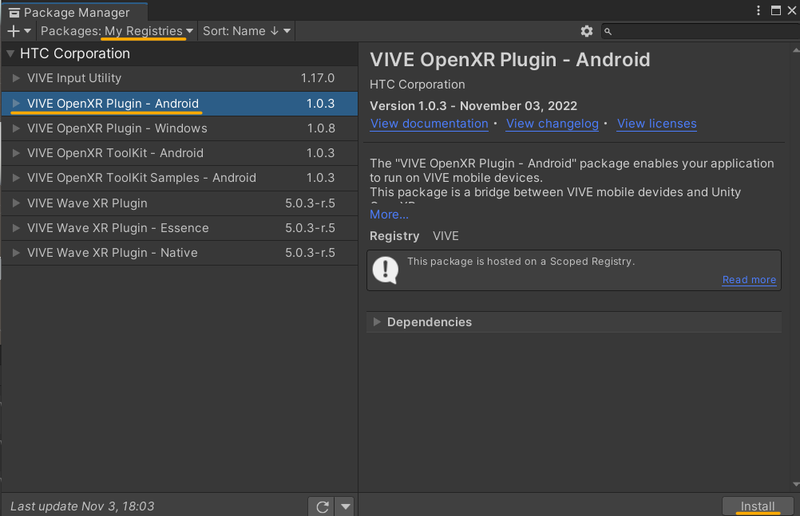 (
Note:
The version of the plugin available on your package manager may be different from the one in the screenshot, select the latest version or any version that suits your needs.)
3. Select "Yes" to use the Input System backends.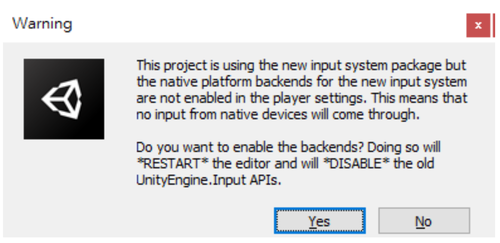 4. These dependent packages will be also installed (the following only shows the minimum supported versions, the real installed versions depend on the version of Unity):
InputSystem 1.3.0
XR Plugin Management 4.2.1
OpenXR Plugin 1.3.1
Note: After installing the plugin, you have to change the Project settings of Unity.
For details on how to setup the project, please visit Documentation